Siemens announces real-time Profinet communication via 5G
---
Siemens has announced that it has enabled the transmission of Profinet I/O via a private 5G network, which allows data to be transmitted in real time for industrial applications. This is made possible by the VXLAN (Virtual Extensible LAN) transmission technology in the company's Scalance 5G routers and security appliances. VXLAN embeds the Profinet I/O protocol, which is transmitted in Layer 2, into Layer 3 packets, which allows them to be transmitted across network boundaries.
Since Layer 2 communication now takes place via 5G, a central controller can communicate with decentralised I/O modules on mobile devices such as automated guided vehicles (AGVs) via Profinet in a private 5G network and no local controls have to be used on the individual AGVs. This saves costs and reduces maintenance.
Siemnes will be demonstrating the technology this year at the Hannover Messe, showcasing the connection of automated guided vehicles via 5G in a prototype of a private industrial standalone 5G network.
The company says the Scalance MUM853-1 industrial 5G router also connects local industrial applications with public 5G and 4G (LTE) mobile networks. With the router, plants, machines, controls and other industrial devices can be monitored and maintained remotely via a public mobile network at high data rates. In addition, the device can be integrated into private 5G networks. The Scalance MUM853-1 thus enables trend-setting applications such as mobile robots in production or autonomous vehicles in logistics.
First tests in the private 5G test field at the trade fair
Deutsche Messe and Siemens are giving all companies access to innovative industrial 5G technology at the '5G Smart Venue' in Hanover. Companies can test their applications in a prototype of a private industrial 5G standalone test network based on Release 15. This is an industrial 5G network that uses the spectrum for campus networks available in Germany (3.7–3.8 GHz band). The first companies are already testing the network; for example, HMS Networks has integrated sensors into the infrastructure via a controller and a 5G router.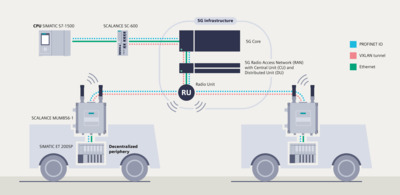 For a larger image click here.
"The integration of our devices into the Siemens network was very easy," said Dr Jens Jakobsen, Head of Development at HMS Labs. Frank Hakemeyer, Director Communication Interfaces at Phoenix Contact, added: "Within Siemens' private 5G network, we will be demonstrating at the Hannover Messe how our industrial 5G router can now also transmit security-relevant signals via mobile communications."
Siemens is developing its own 5G ecosystem, which consists of a 5G infrastructure for private 5G networks and end devices. The 5G infrastructure is still under development and will be available in 2023.
Top image: ©stock.adobe.com/au/Vanitjan