Nelson Pine combines control and safety to minimise downtime
---
The Nelson-Marlborough region is one of New Zealand's major forestry areas, with 16% of the productive land area planted in production forests. Nelson Pine Industries has the capacity to process one million cubic metres per annum, or 40% of the region's annual harvest.
The company produces GoldenEdge MDF (medium-density fibreboard) and NelsonPine LVL (laminated veneer lumber) from radiata pine grown in the plantation forests of Nelson.
Nelson Pine is committed to maintaining compliance with evolving safety standards and utilising the latest control and safety technologies. As safety standards continued to advance, it was clear that an upgrade was required at the plant. Nelson Pine called on Rockwell Automation to develop a solution that integrated control and safety while minimising production downtime.
According to Ian Craw, automation engineer at Nelson Pine Industries, "The plant is ageing. To upgrade the chip mill, we decided to start at the whole backbone of control to take advantage of advancing technologies and meet current safety standards."
The chip mill is a large part of the site where logs are unloaded from trucks for processing. Two pivot cranes and a drum debarker handle 300 tonnes of logs per hour. Control and safety are critically important in the chip mill, so the first stage of the upgrade involved replacing the existing hardware platform with a GuardLogix Integrated Safety System.
According to Sean Doherty, account manager at Rockwell Automation, "The GuardLogix provides the benefits of the standard ControlLogix systems but also includes safety features that support Category 4/PLe safety applications. The GuardLogix also offers integrated safety, discrete motion, drive and process control."
To allow for zone control, the chip mill building was split into two geographical safety zones, using some of the latest safety guard locking switches with RFID technology for controlling and monitoring zones.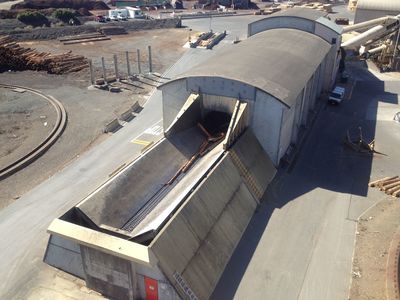 The large drum debarker, which rotates the logs to remove their bark before they enter the chipper.
The first safety zone incorporates a large drum debarker, which rotates the logs to remove bark before they enter the chipper. Outdated variable speed drives were replaced with eight 90 kW PowerFlex 753 drives in a master/slave configuration. They receive their speed/torque reference via the device-level ring (DLR) and achieve a Stop Category 0 (via safe torque off) to Cat3/PLd.
"The integrated safety provided by zone control allows the plant to shut down one zone while the other is still operating as usual, delivering improved production rates. The goal is zero harm but we also wanted to minimise impact to production schedules, so we suggested a solution that helps achieve this," said Doherty.
The second safety zone incorporates safe speed monitoring of the main 1.8 MW chipper motor and safe position monitoring of the 11 kV motor breaker, in order to confirm lockout/tagout (LOTO) has been performed before access is granted into the hazard zone.
"When upgrading equipment it was a priority to meet current safety standards. We are well on the way to complying with the machine safety standard EN ISO 13849, with the goal to achieve PLd across most of the site in the coming years," said Craw.
As there are many hundreds of metres between different parts of the site, an EtherNet/IP network was used to reduce both the amount of cabling required and the installation times, with fibre running the longest legs. Utilising DLRs achieved complete integration of the control and safety system; the ring topology provides high availability of the safety network with high resilience. Various DLRs were run to different parts of the site connecting with field safety devices, bringing the information back to one centralised safety processor that monitors the various processes.
"One of the huge benefits of the solution is being able to have visibility remotely. We use PanelView Plus as the operator interface for fault-finding and monitoring equipment out in the field. In our previous system we had to use multiple software systems to try to diagnose an issue, but now both the control and safety code are easily accessed and visible through ControlLogix," said Craw.
In addition to the PowerFlex 753 drives, which are used on site, Nelson Pine is also using the PowerFlex 525 drives with safe torque off and ethernet capabilities, reducing commissioning time and fault-finding time.
PowerFlex 753 and 525 drives with safe torque off and device-level ring ethernet connectivity.
According to Craw, "The advantage of using GuardLogix is that you can edit and modify code on the run. Trying to reduce production downtime during commissioning was a key outcome from my point of view because there are several aspects of the plant that run 24 hours a day, seven days a week, almost every day of the year.
"Machinery in the chip mill operates 24 hours a day, so once we had GuardLogix up and running we were able to add hardware and edit safety code on the fly, which gave us significant production advantages," he said.
Nelson Pine also used the Safety Automation Builder tool to facilitate the planning of safety systems to achieve the required safety performance level. This tool leverages the industry's most complete offering of safety products, utilising widely accepted best practices to help companies build a complete safety solution.
"For years everyone has been saying that system control and integration is going to become more plug and play, but now ControlLogix is really bringing it to that level," said Craw,
Nelson Pine Industries has adopted production processes that are both safe and environmentally sound. As a result of the success of the new control and safety solution in the chip mill, Nelson Pine is planning to roll out the solution across the entire plant.
"Ultimately, I have used other safety hardware previously and, because they only focus on safety, it makes it difficult when you are looking at the bigger picture. Our plant involves a multitude of safety inputs/outputs and a lot of other systems aren't built to that type of scale," said Craw.
"Rockwell Automation have really partnered with us in providing valuable support and application knowledge that has enabled us to retrofit safety into the working plant. We have not only achieved a suitable performance level relatively easily, but also minimised production downtime — which is of paramount importance to our plant," he said.
---