The new normal is virtual trade shows
---
The current business situation, impacted as it is by the coronavirus pandemic, has meant that trade shows and other face-to-face vendor interactions have almost ceased to exist.
As a result, vendors in the automation industry have been spending considerable time and resources to each establish an online exhibition presence, enabling people to visit their 'virtual exhibition booths', see their latest products and watch company representatives speak about their product offerings through video links.
Some have been scheduled, temporary events, and for some, users must register. Examples include those related to the 2020 Hannover Messe, Interpack 2020 (Bühler and Krones) and the Ozwater trade show in May.
Others are open all the time, and companies are updating them as needs be.
For the most part, they operate in very similar ways: a 3D representation of an exhibition stand allows the viewer to move from place to place where pop-ups encourage you to click to read information about a product or service and optionally to watch a video.
Some examples currently free to access include the following sites we have visited.
Endress+Hauser
Endress+Hauser's virtual trade show (available on both mobile and desktop devices), allows visitors to navigate through an E+H trade show booth with just a few clicks and swipes. It includes high-resolution 3D visualisation with a 360°-panorama spin, 30 active hotspots with text, picture, video, link or PDF, and navigation using simple and well-structured menus. The 360° tour is optimised for smartphones and tablet viewing.
The company has also been running many webinars, and has introduced visual and virtual support for its customers.
The Endress+Hauser virtual trade show can be accessed at: https://apps.endress.com/Virtueller_Messestand_2020/index_en.html.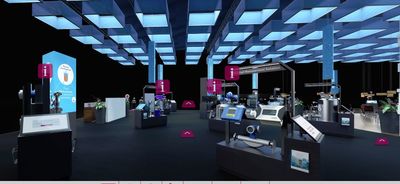 Bürkert Fluid Control Systems
Bürkert in Australia has itself created its own virtual exhibition space. The exhibition showcases the company's capabilities through its four core market segments: Water, Hygienic, Micro and Gas. Avatars are representatives of Bürkert's Segment Field Managers, John Kennedy, Ryan Orbell and Dean Bryant, each of whom has recorded a personalised introduction to each of their stands.
The Welcome Avatar, Annie, introduces the stand, with a number of additional videos, including interviews, about Bürkert's overall technology offering.
The Bürkert Fluid Control Systems virtual exhibition can be found at: https://www.platform-viewer.v-ex.com/?exhibitionId=110.
igus
European industrial plastics manufacturer igus (represented in Australian by Treotham Automation) has created a virtual trade show booth showing over 100 new products. Taking a different approach, the company has built a real trade show stand of over 400 m2 in size and made it virtually accessible and navigable with videos and product information links. Since it is a real stand, personal tours, and individual and group discussions at the stand can also be arranged with representatives from igus.
The igus virtual exhibition stand can be accessed at: https://exhibition.igus.eu.
Top image: ©stock.adobe.com/au/alunablue
Related News
Madison Technologies has rebranded as Madison Group Enterprises to expand its products, solutions...
Rio Tinto has announced that it will invest almost $60 million in training and development in...
Promising gold discovery two kilometres east of the Winu copper-gold deposit in Western Australia.
---